Infrastructure
Designed to meet international Standards
Why Rototon ?
Rototon's techno-commercial infrastructure with state of art Machinery, which has capacity to produce over 200 Metric Tonnes per month.
Our plant layout is specially designed to meet the international standards for hygiene required in Food and Pharmaceutical Industries. We understand our responsibility towards public health and safety. We try to process our product in a cleaned and controlled environment. For that we follow the norms of AGMARK and we are the official printer to the AGMARK by the Government of India.
Our plant is spread our 80000 square feet to meet all the requirement of the customer by keeping the ready raw material and also by keeping the finished goods on behalf of the customer. Our personnel understand their responsibility to keep clean the premises.
We also ensure that packaging we are providing is reached to the actual user with utmost care by providing a perfect treatment to the packaging in terms of the proper thickness of the material and required combination of the material.
To make the best quality packaging solutions, we utilize only the latest in industry equipment and technology powered by the state of the art machinery and a dedicated workforce; we are able to cater to large capacity requirements with ease.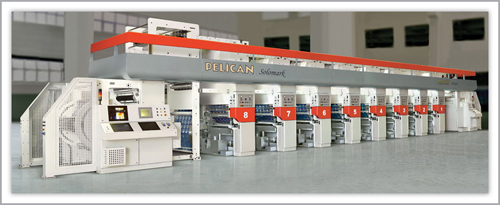 Rotogravure Printing Press
8 color rotogravure printing with auto registration control for high speed output with excellent quality of printing
Auto viscosity controller for consistent color shade of image on the printed subtract
Online printing inspection system for defect detection
Solvent Less Lamination
Higher line speed lamination- 400 mtrs/ min d
Solvent free adhesive technology for food grade packaging with hygienic production process
Solvent free production process reduces the curing time of lamination for faster delivery of the material with excellent bond strength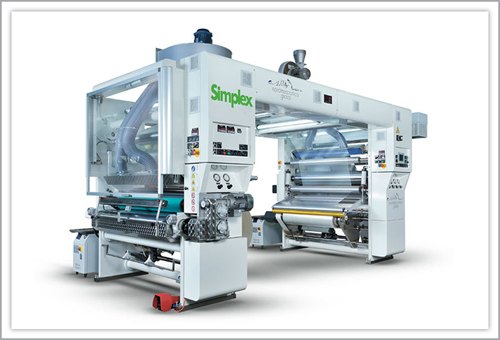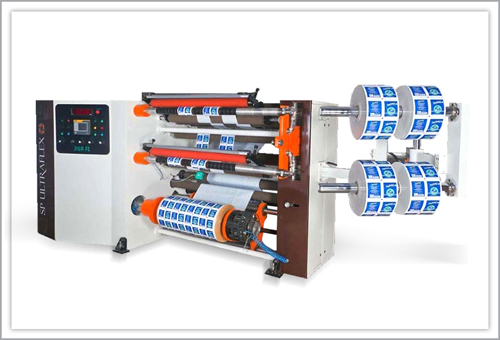 Slitting Rewinder
Accurate slitting with flush cut winding gives ready to use rolls on FFS Machine
Laser core positioning
Edge trim extraction system
Precise winding tension control system- helps consistent & proper unwinding while Pouch forming
Shaft less, motorized and self centering unwinding roll
Touch screen HMI for the ease of operation
Pouch making machine
Chain of high speed pouch making machines for side sealed, center sealed, stand up zipper, 5 side sealed pouches.
To ensure improved quality sealing strength, we have opted quenching process.
In that, we do chilling process immediately after giving hot sealing to the material for excellent sealing strength of the material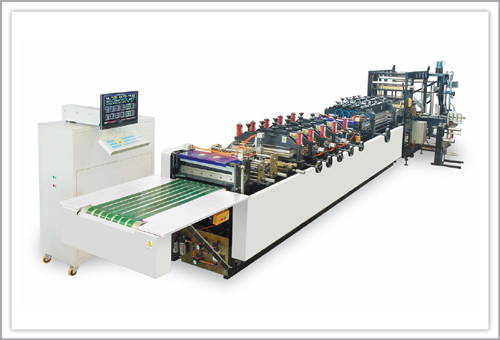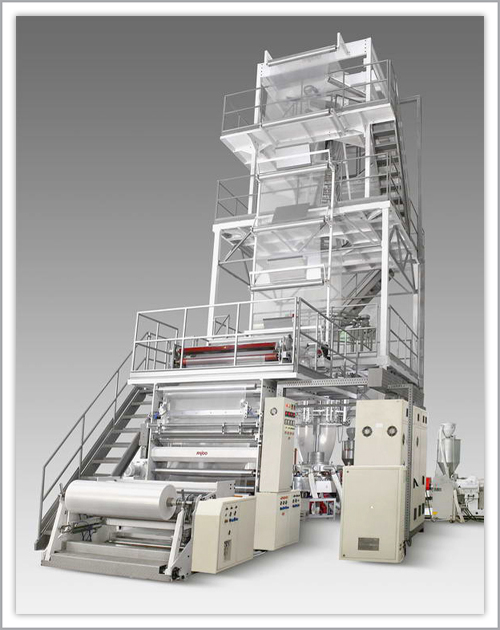 Multilayer Blown Film Line
Output capacity: – 250 kg/hr
Fully automatic winder for precise winding and online slitting
Oscillating haul off assembly for film gauge control
Advance bubble cooling system for excellent transparency and higher mechanical strength
Automatic raw material loading system for accurate feeding and output control
Maximum roll width: 1500 mm